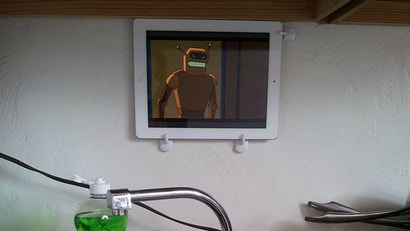 Pick up a few inexpensive Command hooks, and you have an instant holder for your tablet in any (or every) room of your house. This comes in very handy in the kitchen, where you can watch cooking videos or read recipes.
It's also useful for turning your tablet into a digital photo frame, or for hands-free video watching in the bedroom. In fact, the original idea comes from Reddit user etothepowerof3, who uses the 3M command hooks to watch movies in bed.
The photo above from Hack College says it all. Just slide the tablet in or out when you're off to the next room. What can't those things do?
Use Command Hooks to Create Tablet Stations Throughout Your Home [Hack College]