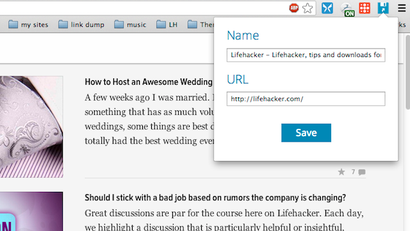 Chrome: Save As Shortcut is a Chrome extension that creates a shortcut file on your computer for the site you're currently browsing with a single-click. It's especially useful if you need to share links with other people or across computers.
Save As Shortcut is the work of Lifehacker reader Myth Of Echelon. He explains that he often uses the shortcut files created by the extension to send URLs to other people when he can't just send links, like dropping a file in a shared Dropbox folder, for example.
It's also useful if you need to quickly get a URL from one computer to another: just drop the shortcut into Dropbox or another syncing service, then double-click it on the other computer. Double-clicking it launches your default browser and goes right to the page in question.
We know you could just as easily IM or email a URL to a friend, or add a bookmark and let your browser's bookmark sync handle it, but if you don't have those options (or want something a little faster), this is a great alternative.
Save As Shortcut (free) [Chrome Web Store]