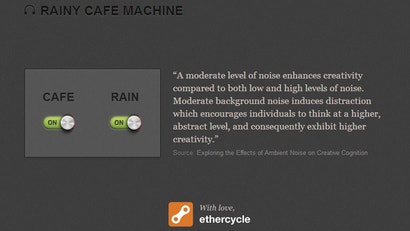 Ambient noise can do a lot to help boost your creativity. The Rainy Cafe Machine is a simple little site that plays both the bustle of a cafe and the soothing sound of gradually increasing rainfall.
Picture: Robert Couse-Baker/Flickr
The web app is a lot like Coffitivity, but the addition of rain is a nice complement to the ambient cafe buzz. You can also toggle both the rainfall and the cafe tracks on or off individually.
Unfortunately, fans of rain may come away a bit disappointed. The track is rather short and doesn't seem to loop, so you'll have to manually toggle it on and off after it ends.