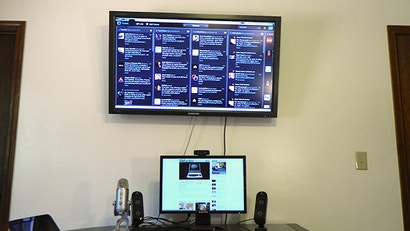 If you do a lot of multitasking on a desktop computer, a second monitor can be a great way to increase productivity. However, it can also lead to more distractions. If you find yourself paying more attention to Twitter or YouTube on your second display, consider mounting it above your main screen.
It may sound counterintuitive, but having a second monitor above your primary display is uncomfortable. Looking up to check Twitter or glance at a YouTube video you have running strains your neck. While working like this eight hours a day would obviously destroy your posture, a quick glance is no big deal. After a moment or two, that stress serves as a physical reminder to tilt your head down and get back to work.
To mount the monitor above your second one, you can either use a treadmill stand behind your main desk, or use TV wall mounts.