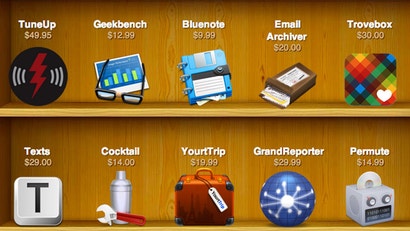 Mac: Software bundles are a great way to save on a bunch of apps and discover new interesting ones. This latest one from Paddle features 10 apps, normally priced at $US230, for just $US40.
We've featured several of these apps before. Here's what's included in the bundle (all original prices are in US dollars):
TuneUp ($49.95): automatically organizes your cluttered iTunes library and fixes mismatched tags, duplicate tracks, and other issues.
Geekbench ($12.99): benchmarks your Mac
Bluenote ($9.99): securely organizes and syncs notes, tasks, and passwords
Email Archiver ($20): creates a searchable PDF archive of your emails or email folders
Trovebox ($30): a photo gallery with mobile, Dropbox, and Box.com support
Texts ($29): a Markdown, plain text editor
Cocktail ($14): a great system maintenance utility for cleaning, repairing and optimising your Mac
YourtTrip ($19.99): a travel management app
GrandReporter ($29.99): automatically searches the web for you and saves pages based on your queries
Permute ($14.99): drag-and-drop video conversion tool
You can grab all 10 apps for $US39.99 at Paddle over the next eight days.
The Spring Mac Bundle from Paddle [Paddle]