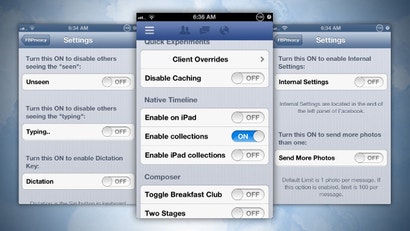 iOS (Jailbroken): It's fairly easy to customise your Facebook experience on your desktop, but that doesn't extend to the mobile experience. FBPrivacy is a new jailbreak tweak that gives you a bunch of options for taking control of what happens in the iPhone's Facebook app.
We've shown you all kinds of ways to customise the settings in Facebook from your computer, but unfortunately those extensions and tweaks don't carry over to the mobile experience. FBPrivacy gives you some of that control over both Facebook and Facebook Messenger.
Using it, you can disable the "seen" messages sent after you view a message, turn off the "typing" indicator, enable the dictation key, turn on timestamps, and even enable VOIP. Additionally, you can set it so you can send more than one photo in a message, and turn off Messenger reminders.
If you're particularly curious about what Facebook's doing under the hood, you can also enable Internal Settings in the Facebook app to get access to all kinds of settings you wouldn't normally see. The developer has also mentioned that settings for chat heads and customisation of the news feed are in the works as well.
FBPrivacy ($1) [Modmyi via Addictive Tips]