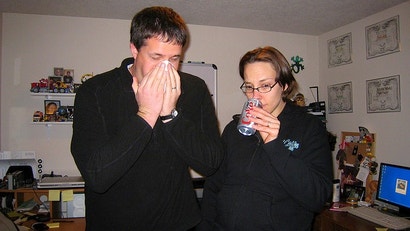 Conversing with a sick friend is never easy, but you don't necessarily need to walk on egg shells throughout the conversation. To keep the talk productive, the Wall Street Journal suggests you get the facts straight and ask very specific questions about your friend's health.
Picture: Christopher/Flickr
It's tough to ask a family or friends how things are going after you find out they're ill or just walked out from the hospital. Asking "how are you?" doesn't do much good. It's better to keep things specific:
Did your friend have a heart or liver transplant? Chemo or radiation? Don't just ask, "How are you?" Ask questions specific to your friend's health. "How's your rotator cuff these days?" "Did the blood test show Lyme disease?" "Are your new meds working?" If you need help remembering who has shingles and who has lupus, or the date of a friend's operation, enter a health note under the person's name in your contacts list or stick a Post-it by the phone and update the information as needed.
The idea here is that you can concentrate on what just happened, see how they're really feeling, and show that you're paying attention to what's going on. Head over to the Wall Street Journal for a few more tips for keeping those tough health conversations productive.
For a Sick Friend: First, Do No Harm [Wall Street Journal]