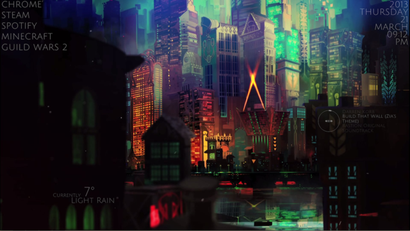 Lifehacker reader Raghken was so enamoured with the teaser trailer for Supergiant Games' upcoming title, Transistor (you can read all about it over at Kotaku) that he built this week's featured desktop around it. Even if you're unfamiliar with the game, the wallpaper is gorgeous.
If you are familiar with the game (or familiar with Supergiant Games' previous hit game, Bastion, you'll want to keep an eye out for Transistor. It looks great. If you're not into video games, just appreciate the stylised cityscape wallpaper, and the way Raghken incorporated Rainmeter into it.
Here's how he did it, and what you'll need to make it your own:
With those themes and the right font, you should have no trouble making this desktop your own, or just tweaking it so it fits better with your workflow. If you do run into issues, check out our guide to Rainmeter for tips.