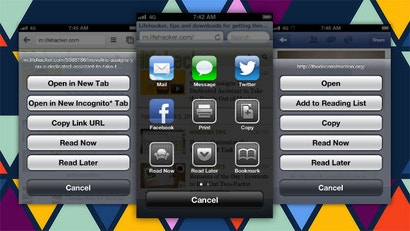 iOS jailbroken): If you're an avid user of Pocket, Readability or Instapaper, you've probably lamented the lack of convenient ways to send articles to those services. Readr is a jailbreak tweak that makes it simple.
Readr adds a toggle throughout iOS that makes saving articles easy. After you set up your credentials in the Settings, you can start saving web pages from anywhere. In Safari, just hit the share button on any page and select your read-later service of choice.
In most iOS apps (including Chrome) you just need to do a long tap on a hyperlink and the share menu pops up with a "Read Later" option and a "Read Now" option that strips away all the extra elements to give you a clean reading area.
For some reason, you can't tap the URL directly, but otherwise Readr works exactly as you'd expect. If you'd prefer a free solution (or you're not jailbroken), you can accomplish the same thing with bookmarklets.
Readr ($1.99) [Big Boss Repository via Cult of Mac]