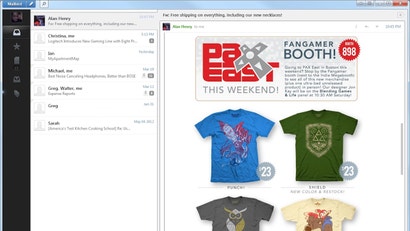 Windows: There are a lot of great desktop email clients available for Windows, but Mailbird promises to bring some elegance, simplicity and useful new features to your desktop. We've been testing it for a few months now; here's what we think (and how you can try it out too).
Mailbird does like an awful lot like Sparrow, our favourite mail client for the Mac. Many of the same features are available in the same places: messages display on the right in a collapsible conversation view. Tags, labels, reply/reply all, and info buttons are all in the same places. Even the layout is similar.
Ultimately, Mailbird is like Sparrow for Windows...if Sparrow was kind of sucky. Here are the pros and cons.
What It Does Well
Mailbird does offer some great features on its own. It syncs perfectly with Gmail and can access all of your labels and folders. You don't get advanced features such as canned responses and filters, but basic Gmail functionality is there. we recommend having a desktop email client on hand for a number of reasons, even if it isn't your main source for email.
Mailbird is fast. Composing and sending messages is a snap, search is quick and accurate, and the app supports Gmail keyboard shortcuts, so if you're familiar with the web interface, you don't need to learn a bunch of new tricks.
Mailbird also has add-on "apps" to extend its functionality. Some that come pre-installed (but not enabled — you'll have to do that manually) include Dropbox for attachments, contacts, calendar, and Facebook — which goes beyond just downloading profile images and contact information but also lets you post status updates and keep up with your friends.
Where It Falls Short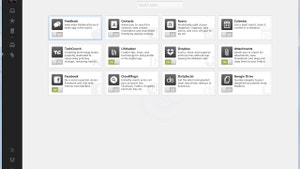 It's not all roses with Mailbird. For starters, the app in its current state only supports one Gmail account. No POP, no IMAP, not even multiple Gmail accounts. The developers say multi-account support is on the way, but it's hard to even discuss an email client without it. Instead, they're working on "multi-identity," or account aliasing, but that's not the same, and it's not nearly as useful.
The other major downside is Mailbird's pricing. While in beta, the app is free, and if you sign up using our invite link, you'll get six months of Mailbird Pro for free, even after the beta ends. After that, there will be two versions, Free and Pro:
The free version will be ad-supported and attach a "Sent Using Mailbird" link at the bottom of your messages.
The Pro version will remove the ads and the signature link, and let you add as many accounts as you like. The Pro version will also cost you an annual subscription of $US12 USD/year (you can pre-order now for $US9/year). You'll have to decide whether that's worth your money, especially compared to apps like Postbox (one-time fee), previously mentioned Inky (completely free), or our favorite, Thunderbird (completely free) with more forgiving price tags and more features, even if they're not as pretty, lightweight or fast.
How To Get It
The team behind Mailbird plan to launch their public beta on April 2nd, but if you want to give it a try now, they've offered us 3000 beta invites for Lifehacker readers. You'll need to use the referral link below to grab it, but they're only offering Mailbird to the first 3000 people who click it. After that you'll be in line to join the public beta on the 2nd.