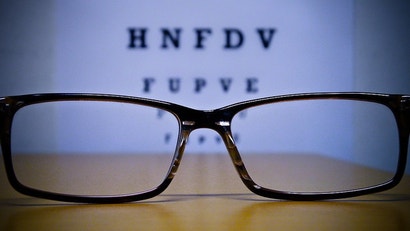 When our eyeglasses are smudged, we reach for the corner of our shirt to clean them. You probably know that is the wrong way to clean glasses, but you do it anyway. According to a report by the Wall Street Journal, you just need soap and a cotton cloth to clean glasses the right way.
Picture: Daniel Novta/Flickr
The Wall Street Journal says that any old piece of cotton and regular kitchen soap is far better than those cleaning solutions you get at the optometrist:
The AOA recommends washing glasses every morning, paying special attention to the frames and earpieces, where hair product and makeup tend to rub off. Whatever you do, don't use the most handy form of water to clean your lenses. "Some people use spit, but don't," urges Dr. Geist. Though dirty glasses won't cause an eye infection, saliva "is not the best hygiene method, and it just won't work very well," she says. Soap, warm water and a dry cloth are all you need, once a day, to keep glasses optimally clean and functional.
You also shouldn't use anything with ammonia, bleach, vinegar (although it's great for drinking glasses), or window cleaner because those chemicals strip away the coatings on your glasses. Keeping your glasses in optimal shape is really easy when you do it right. That should be just enough to keep those fancy new computer glasses in optimal shape too.
The Best Way to Clean Your Glasses [Wall Street Journal]