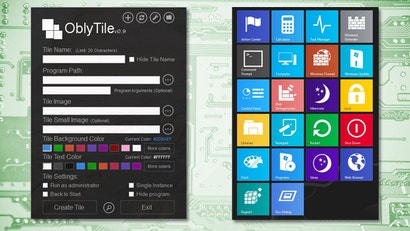 The Windows 8 Start screen has the potential to be a great application launcher, but the application shortcuts it creates for desktop apps can stick out against the slick, modern system tiles. OblyTile solves that problem by letting you create custom tiles for any app or folder.
The first thing you'll want to do is click the folder icon on the top of the OblyTile Window to open the Tile Manager sidebar. From here you can select an app or system task you want your tile to launch. Then, just select a background color and a .png image to use as the icon.
To get you started, Icon Archive has compiled hundreds of modern-looking icons for popular programs that you can download if you don't want to make your own. In addition to apps, OblyTile will also create tiles for accessing specific folders in Explorer, or for launching common tasks such as locking or hibernating your computer.
Combine OblyTile with previously-mentioned Decor8, and you can finally create a beautiful start screen all your own.
OblyTile - Tile Creator for all programs [XDA Developers via How-To Geek]