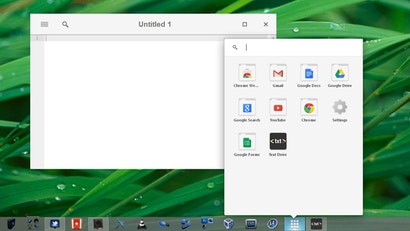 Google has made a new Chrome feature for Windows available to developers. In the near future, you can expect to be able to launch Chrome apps outside of the browser from the Windows taskbar. Here's how it works.
Similar to the app launcher on Chromebooks, Windows users can now launch Chrome apps right from the taskbar. Regular Chrome apps will open up in a Chrome tab, but the launcher is really designed for "Chrome-packaged apps", a special type of app that will open in its own window, work offline by default and will otherwise work like a desktop app.
Right now, it doesn't look like there are a lot of Chrome-packaged apps out there (Gmail and Google Drive aren't even among the few), and there's no way to search the Chrome Web Store for them just yet.
To try out the launcher, grab a Chrome-packaged app like the Text Drive text editor from Chrome's web store. You'll be prompted to install the launcher to your taskbar, after which you can launch Text Drive in its own window. The launcher will also list your other Google Chrome apps like Gmail and Google Drive, but you'll only be able to open them as tabs in Chrome for now.
This feature is still in early stages, so hopefully we'll see more supported apps soon. Google also says a Mac and Linux version is on the way. Hit the link to read more.
Chrome app launcher developer preview [The Chromium Blog]