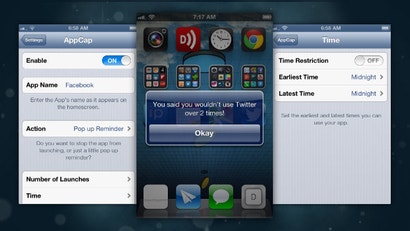 iOS (Jailbroken): The iPhone is a great little time-wasting device. If you don't like the fact that you're launching Facebook 600 times a day, AppCap is a new jailbreak app that blocks any app you choose for a specified amount of time.
AppCap essentially allows you to give your willpower a rest by giving you the option to block any app from opening. Just type the app name into the AppCap section under Settings, and then select your options. You can set it only open for a certain number of launches, between certain time periods, at a specific frequency, only on days of the week, or only when you're on Wi-Fi.
It's a simple idea, but if you need to block an app from yourself it does the trick. Like most of these types of services, you can always just disable it, but it's a useful adjunct if you lack willpower. It only supports blocking one app right now.
AppCap (Free) [ModMyi via Addictive Tips]