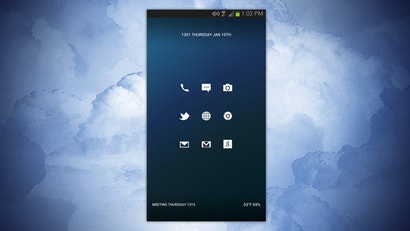 Lifehacker reader Alex M put together this truly minimal home screen with a simple 3x3 grid of icons and almost nothing else. Minimal home screens can sometimes go overboard, but this one achieves a good balance between simplicity and accessibility.
Here's what you need to put it together:
Launcher: Apex Launcher, with a 7x5 grid, large horizontal margins and no dock. Swiping up shows the app drawer, swiping down brings up the recent apps list.
Widgets: Mimalistic Text, showing the time and date at the top, next calendar appointment on the bottom right, weather and battery life on the bottom right. Tapping these brings up Astrid, Calendar or The Weather Channel, respectively.
Icon Pack: Mono Go Launcher EX theme.
The "world" icon in the middle is actually a folder containing frequently-used "secondary" apps.
The wallpaper was originally from here, and had been kicking about in my "wallpapers" folder for a while. I chose to use it, but only show one corner to get the gradient effect. I should probably just crop it or make my own, but I like it for now.