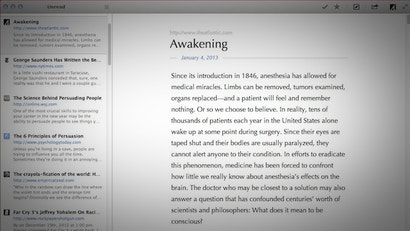 Mac: Read it later services like Instapaper and Pocket make reading anywhere a great experience by stripping away all the formatting and giving you just the text. ReadKit is an app that combines all your accounts into one place for easy reading on the desktop.
Considering Pocket has its own Mac app, ReadKit is most useful for fans of Readability or Instapaper (or anyone who uses multiple services). ReadKit's basic layout looks and works a lot like Reeder. You get a three-column list of the services you use, the articles you've saved, and the article itself. The nice thing is that you can instantly hide those columns with the Focus Mode so you just have the article in front of you. From there, you can customise the look with all sorts of themes and fonts to make the reading experience fit your tastes.
If you're an avid bookmarker who uses multiple services, or you're just looking for a solid desktop app for Readability and Instapaper, ReadKit does the job. It's on sale this week for $1.99.
Readkit [Mac App Store via Mac App Storm]