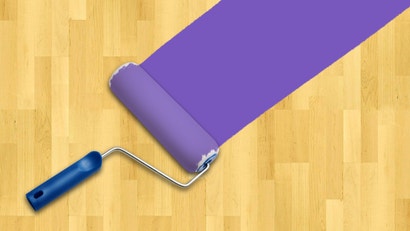 Vinyl and laminate floors are tough to keep clean when they get old. Fortunately, you can revive them with not much more than a can of paint. This DIY tutorial at View Along the Way shows us how.
Kelly, the DIY goddess behind View Along the Way, took her laundry from standard fare to super-awesome for only a couple of hundred dollars. Check out the before-and-after shot below.
Here's the list for what you'll need to do something similar:
Regular latex primer
Enough porch and floor paint to cover your floor
Painter's tape
Sugar soap
Paint rollers and brushes
Orbital sander and sandpaper
Caulk (if your vinyl flooring has holes)
Once you have your supplies, you're only five steps away from a totally revamped laundry or kitchen:
Clean: Kelly recommends giving the floor a good scrub with sugar soap
Sand: Bust out the sander to smooth out and de-shine the floor before painting
Repair: Fill in cracks and holes with caulk from the hardware store
Prime: Standard latex primer works just fine to prep floors too.
Paint: The fun part! Make sure you use porch and floor paint — it will stand up better to foot traffic.
Check out the full tutorial for more tips and inspiration.
How to Paint Vinyl or Laminate Flooring [View Along the Way]