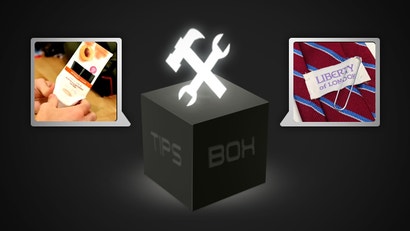 Lifehacker readers offer their best tips for getting the last bit of product out of your toiletries, getting quick access to Chrome's history in Android, and straightening up your necktie.
Every day we receive boatloads of great reader tips. From the Tips Box is where we round up some of our favourites. Got a tip of your own to share? Add it in the comments or send it using the contact tab on the right.
Get More Out of Your Toiletries by Cutting the Tubes in Half
Andrew Takano puts a new spin on an old tip:
Here's a short video I made about getting the last few uses out of a seemingly empty tube of face wash. I've been doing this for years and figured some other readers would find it handy.
Access Chrome's History on Android
MsCassLopez discovers a seemingly absent feature in Chrome and a fix for it:
You can go a long way towards making up for Android Chrome's lack of a history button by bookmarking chrome://history/. If you rename it to Browser History then it will stay near the beginning of your bookmarks list if you sort in alphabetical order.

You can also set it as your browser home page which I can see being of use to some people.
Use a Paper Clip to Fix Stubborn Ties
Phil Capizzi keeps himself looking sharp:
I recently found myself in a bit of a bind at work: I left my tie chain at home, and the back portion of my neck tie was being stubborn to the point of wanting to remove it completely. I had a very important client meeting and needed to wear the tie, so I wondered how I could remedy the situation.

I found a paper clip, tucked the back side of the tie into the tag/loop on the back of the top side of the tie, and used the paperclip to secure the little tail to the big piece of the tie. No more movement from behind the tie to poke it's head out and say hello, and no more need to stress about looking like a disheveled mess.
I've been doing something similar for years, actually. When I use certain knots (like the four-in-hand), the back part is much longer than the front, so I fold up the back and use a paperclip to keep it all neat. Handy if you're in a bind and your tie just isn't cooperating.