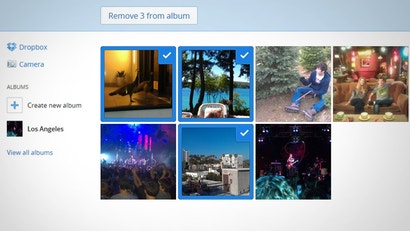 Dropbox has started rolling out new features for its website today. Now, users have the ability to preview documents, as well as new photo-sorting and sharing tools.
When you double-click on a PDF, DOC, DOCX or PPT file, you'll see a preview of that file before you download it (spreadsheets are not yet supported).
Dropbox also has a new "Camera" section. When you log in, click "Camera" in the left sidebar, and you will see all the photos you have uploaded from your devices grouped by date. You can group them into their own individual albums and email them or post them to Facebook and Twitter right from this interface. Your albums will stay intact even if you move those photos to a different folder in your Dropbox.
Dropbox says these features are going to roll out gradually over the next few weeks. So if you don't see the new features yet, keep an eye out for it.
Dropbox moves beyond simple file management with social photo sharing, albums, and document previews [The Verge]