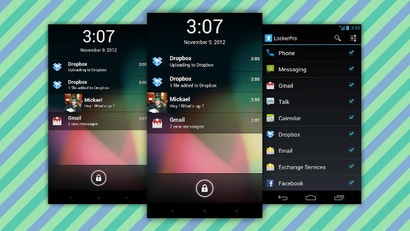 Android: The way Android handles notifications in the pull-down drawer is so useful that it even made its way to iOS. But if you like being able to see those notifications — and even their content — right on the lock screen without unlocking your phone (the way you can in iOS), LockerPro Lockscreen lets you do it.
LockerPro lets you control which installed apps can push notifications to your lock screen. When the app is enabled, that means new SMS messages, Dropbox notifications, app downloads, emails and more will show right on the lock screen, and you can view or dismiss them without even unlocking your phone.
For example, if your friend sends you an SMS, you can read it (or at least the first few words) on your lock screen and dismiss it by swiping left-to-right. To jump right to the app in question or view the whole SMS message, swipe right-to-left instead. LockerPro Lockscreen is free at Google Play, but if you have $3 to spare, the Pro version includes lots of added features, including lock screen customisation options, the ability to hide the status bar when locked, and support for portrait and landscape modes.
LockerPro Lockscreen Lite [Google Play] LockerPro Lockscreen ($3) [Google Play via AddictiveTips]