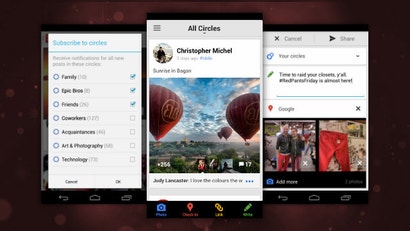 Android/iOS: Google is releasing an update to its Google+ apps today that adds lots of new features. Most notably, they include the ability for Android users to upload full-size photos and support for Google Hangouts on slower connections.
The list of updates to the app is huge and includes new event notifications, 360-degree panorama uploads and profile editing. Android users also get full-size backup of their photos up with 5GB of free space using the Instant Upload feature. Both iPhone and Android users also get improved Hangout support that allows users with low bandwidth to connect to Hangouts a lot easier.
Check out Google's post for the full list of updates. Both apps should be out in the Google Play and iTunes App Store later today.
Google+ (free) [Google Play via Google] Google+ (free) [iTunes App Store via Google]