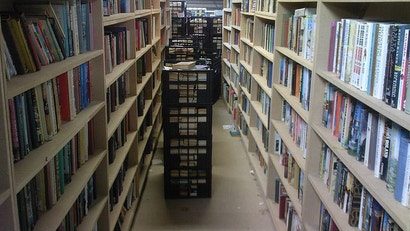 Dear Lifehacker, I'm sure I would like to read. In fact, I know I would, but I never quite seem to get to a point where I sit down and start reading a book. It feels a lot like cleaning the house: I know that I'll enjoy having accomplished it and will gain something from it (sanitary living conditions for cleaning, ideas experiences from books.) I probably won't even particularly mind doing it at the time. The problem is, I just can't quite get started. What would you recommend? Thanks, Ennui
Photo by Chillihead
Dear Ennui
There's a number of different ways to approach this problem. To kick things off, though, congratulations. You're reading this. Yes, it's not War and Peace, but then I get the feeling you're potentially more interested in non-fiction ideas and experiences than in a stirring drama detailing the effects of the Napoleonic war on Russia. It still counts if you're reading, no matter whether it's a screen or a physical page — at least in my estimation. I truly love reading, and spend a huge quantity of my time doing so; I've been known to read every prescription pad in my GP's surgery just to pass the time — although he's rather taken aback when I ask him about them...
Still, there are obvious time and personal management strategies that go into play here, and the first and most obvious is to make time for reading specifically. Set a calendar appointment for yourself, using whatever you've got to hand; if it's a smartphone, get Google to hassle you with an emailed reminder and screen alarm if that helps. Humans are creatures of habit, and if you make it a regular scheduled activity, you're more likely to stick with it.
If your budget permits, buy yourself an e-reader (or just a new book) — the appeal of the "new toy" might just hook you in long enough to get reading into your regular schedule.
It's also a good idea to separate yourself away from other distractions, whether that's reading away from the TV or whatever else is taking up your time. I'm thankful that we still have public libraries; there's nothing stopping you taking your own reading material (within the obvious boundaries of taste) into the library and reading in their quiet spaces. Ditto for public parks, but watch out for the local wildlife. Paper pages and pigeon droppings don't mix well. I tend to escape to my bedroom for quiet peaceful reading time apart from my kids, for what it's worth.
But speaking of kids, I put this question to my lovely wife, who, amongst other things, is a fully trained early childhood teacher. Early childhood is when most of us learn to read and learn to engage with reading, and she passed on these three tips:
Find something you're interested in. The best way to get a child engaged in reading is to find something they're interested in — and we're not that different as adults!
Read before bed — children get this instilled in them via bedtime stories, but it's a good way to wind down. (this ties in with what we've seen regarding studying before bed — but best not to do it on an electronic screen in this case)
Use the Goldilocks principle when choosing your reading material. Not too easy, not too hard: Just right. Also, avoid being eaten alive by bears, because that will mess with your reading schedule.
Cheers Lifehacker
Got your own question you want to put to Lifehacker? Send it using our contact tab on the right.