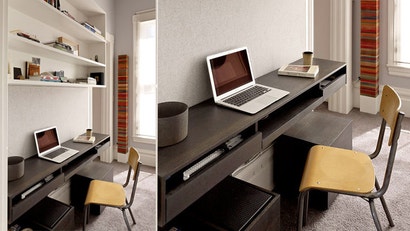 Today's featured workspace was once a walk-in wardrobe. Now, it's a small study featuring a beautiful, long and narrow dark wood desk — just enough space for a laptop.
The long lines of the bookcase mirror the suspended desk, and the matching file cubes also add to the aesthetically pleasing geometric design of the space.
The workspace is part of a small apartment in a San Francisco 1880s house. You can see more of the home in the slideshow linked below.
In San Francisco, Design as Conceptual Artwork [New York Times via Not My Beautiful Home]