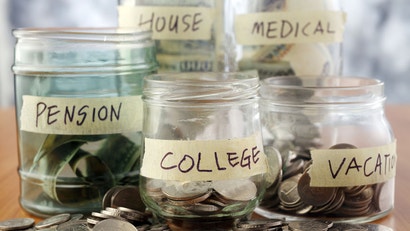 Getting out of debt often seems impossible because the process doesn't happen overnight. You need to put together a plan that you will stick to over multiple years. JoAnneh Nagler was stuck with $80,000 in debt and paid it off by separating her savings into specific accounts:
Photo by discpicture (Shutterstock).
I came up with a simple division of bills and daily needs, from food, fuel, dry cleaning, and household items. And then ways to make savings meaningful by creating free multiple savings accounts. In my household, we have a travel account, car repair accounts, short-term savings accounts for unexpected expenses, and money for Christmas and the holidays. You have to make savings real for yourself. If you want an outlet shopping day, great, make an account for that.

Debtors usually are mindlessly spending on [what they think of as] daily needs. We might spend $US300 on a bulk warehouse and expensive wine. We have no accountability. Now, with a spending plan, you learn to prioritise what you need and love. It's not a constricting tool-it's an eye-opening tool.
When all your money is one place, it's tough to manage. Actual separation may involve a little more management, but it forces you to look at specific budgets for specific things. If you've failed to get out of debt in the past, this approach looks like a great way to keep you on track.
How One Woman Wiped Out $US80,000 in Credit Card Debt [US News]