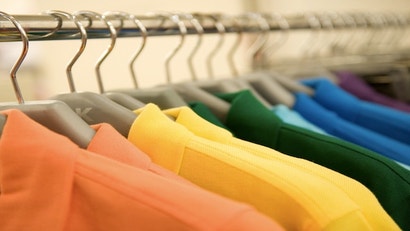 There's a new way to revamp your wardrobe and find great deals on stylish threads, and it has been growing in the past couple of years: clothing swaps. You may have heard of this concept (especially in the fashion blogosphere), as more and more people have participated in these social gatherings to unload their old duds and find some new wardrobe staples. One person's never-worn chambray button-down is another person's treasure, right?
Image by hxdbzxy (Shutterstock).
Here's the general concept: You bring your slightly worn clothing and accessories to the event, you get credits according to the value of what you contribute, and you use those credits to pick out items from other swappers. Organised events have popped up in the US, and there are even start-ups such as ClosetDash that automate the process. Closer to home, you can search online for options through Meetups, Gumtree, Freecycle or other community sites.
Another option? Have a smaller-scale swap held in someone's home. It's like a day spent shopping with your favourite friends — only it's totally free! If you want to try it out, here's a few tips to keep in mind:
Invite a large enough group of people that there will be various sizes represented, which is better for sharing.
Suggest a cap on how many items each participant can bring — otherwise, you risk having an enormous stack of unwanted clothes at the end.
Provide tokens (poker chips, perhaps?) for each item a guest brings in, which she or he can then trade for the items she or he wants.
Offer extra hangers to display guests' items around your living room, and clear off a bookcase or table to host folded items.
Bring out a mirror or two so that guests can try on pieces. Of course, the beauty of a swap is that you've got a whole room of friends to lend their expert opinions, but a mirror never hurts.
Consider turning your swap into a charitable event by suggesting an "entrance" fee from each guest to be donated to the organisation of your choice. At the end of the event, collect the leftover items and take them to a charity shop, so nothing goes to waste.
Don't forget some snacks and bubbly!
Tell us! Have you done a clothing swap before? Any tips that new swappers should know about?
Need a New Wardrobe? Try a Clothing Swap [The Daily Muse]
Based in New York City and constantly dreaming of the rest of the world, Meredith manages her globetrotter's itch by exploring sustainable economic development in emerging markets through fashion. Previously a style blogger and currently a jack-of-all-trades for Musana Jewelry, Meredith also has a love of statement jewellery and a weakness for a strong cup of Ugandan coffee. Keep up with her work on Twitter @musanajewelry or drop her a line at [email protected].