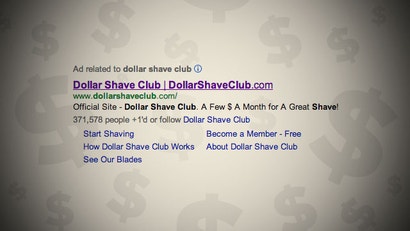 Many companies offer affiliate programs where you can send links to their products and receive either money or credit for anyone you refer. This works great if you can refer many people, but not so much if you have a limited based of contacts. Security expert Brandog Gregg discovered that advertising his referral links through Google Adwords earned him a significant discount:
Dollar Shave Club has the free month of blade for each user signed up. I put my reference link on a Google Adwords post, got a years worth of free blades from sign ups for only $US12. So I ended up paying $US1 a month instead of $US9.
Basically, Brandon paid $US12 for the Google ad, got a year's worth of blades for free from all the referrals it earned him, and so his total cost was $US12 for the year instead of $US108. That's a pretty big savings ($US96) for just posting a tiny little ad. Presumably this trick works with other referral programs as well. Give it a shot. You might make some money.