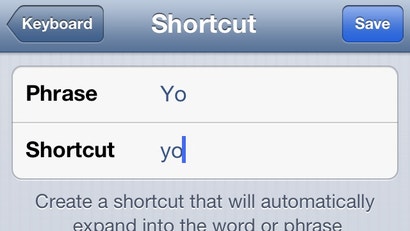 The iPhone's autocorrect feature is useful most of the time, but it also tends to correct words when you don't want it to do so. Reddit user wesontap shows us one way to fix this by adding words in the shortcuts menu.
We've talked about one way to add custom words with international keyboards, and even just adding an extra letter when you're typing. This trick uses the text expansion shortcut we like so much. The process is easy:
Open up Settings.
Tap the General section.
Tap the Keyboard section.
Tap "Add new shortcut."
Add whatever words you like. Use the same word in both the phrase and shortcut box.
Now, when you type that bit of slang, the iPhone won't autocorrect it to something else. The shortcuts menu is great for all types of common phrases you might use, but this is especially handy if you like to use a bit of your own personal language style.
speaking of iPhone keyboard shortcuts... this one solved a huge pain in the arse for me. (no more yo's turning into to's & up's) [Reddit]