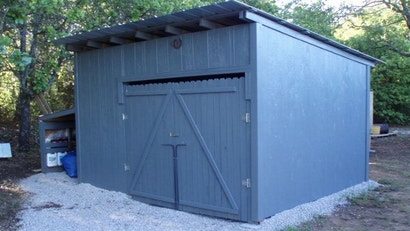 If you need a shed to store your lawn mower and gardening tools, here's a way to build one that looks good without spending a lot of money. This shed uses shipping pallets to form a skeleton of a shed that you can cover with plywood and a galvanised metal roof.
Amateur history enthusiast Butch Bridges shares the design and step-by-step photos of the 3m x 3m shed he made for a few hundred dollars over the course of a few weekends. He put together the wall frame by bolting two levels of square pallets together and adding a roof frame made from timber. The roof itself is a piece of carport galvanised sheet metal roofing material, and the exterior sides are built with sheets of plywood.
It is perhaps not the most attractive shed, but it has utilitarian appeal that wouldn't look out of place in most backyards. Bridges also shows us how he used wooden pallets to create a smaller attached shed, a chicken coop and shelving. Hit the link below to check out the details.
My Wood Pallet Shed Project [OklahomaHistory.net]