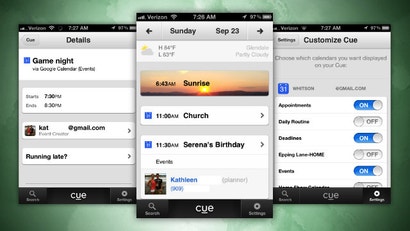 iOS: Cue is an intelligent calendar that integrates your email, contacts, documents and cloud services to create a smart timeline of your day. And it has just been updated with some much-needed customisation options and performance improvements.
We've talked about Cue once before, and we thought it was an awesome idea: you link together your cloud services and it creates the most intelligent calendar you've ever had. You can view related emails, call the event's planner, and even manage airline reservations and track packages.
The app has gone through a few updates this year that make it much more worthwhile. Most of its original problems have been fixed, with better performance and fewer bugs. But it has also added the ability to choose which calendars show up in the timeline, adjust push notifications for each calendar, and link your local iOS calendars to the app (not just Google Calendar). The developer has also added a web app, but it just searches your account and isn't very good at finding relevant data.
If you were on the fence about this app because of its quirks, now is the time to check it out. It will change the way you manage your day. Hit the link below to check it out.