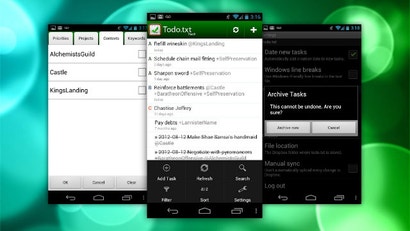 Android: Todo.txt, the app that sets up your to-do list in a versatile plain text file, has updated its Android client to include a swipe-to-complete gesture, a simpler settings panel, and a number of bug fixes.
Now, when you want to complete a task, you can just swipe along the task from left to right. If you want to undo that action, you can swipe from right to left. The new version of the app also archives done tasks to your done.txt file, fixes issues with file conflicts and offline mode, and includes an even simpler settings panel so you can get back to getting things done.
Hit the link below to see the full list of changes, or head on over to Google Play and download the app now. And if you haven't set up your to-do list in a plain text file yet, read up on why it's awesome.
Todo.txt for Android Gets Archiving, Swipe to Complete [Smarterware]