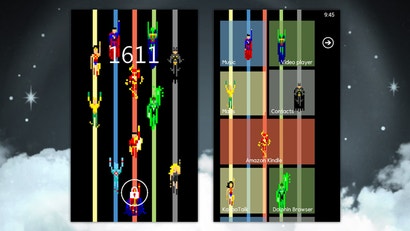 Reader bludreamers put together this clever home screen with a Windows Phone-style interface and 8-bit images of the Justice League.
Inspired by a similar home screen featuring the 8-bit Avengers bludreamers put together some 8-bit art and used Windows Phone-like tiles to create a very cool home screen. For this screen, you only need two things:
Launcher 7 for the Windows Phone-styled home screen tiles.
Bludreamers' set of Justice League tiles and wallpapers, available here. Each tile is just an image; after putting it into Launcher 7 you'll be given the choice to put text on the tile that corresponds to the app it launches.
The final product is impressive; the wallpaper lines up with the images in each icon, and the whole thing looks very snazzy when you scroll.