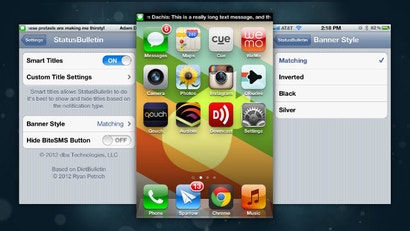 iOS: (Jailbroken): Your iPhone's notifications can sometimes get in the way, but a clever jailbreak called StatusBulletin will shrink them down to the size of your status bar. As well, if the message doesn't fit it will scroll it automatically so you can read the entire thing.
While smaller, simpler notifications is the primary purpose of StatusBulletin, it also offers a few settings to change the banner style and show and hide message titles based on the type of notification. You can even change message titles for individual apps yourself.
If you want to check it out, StatusBulletin is available for free on Cydia in the ModMyi repo.
StatusBulletin (Free) [ModMyi via Addictive Tips]