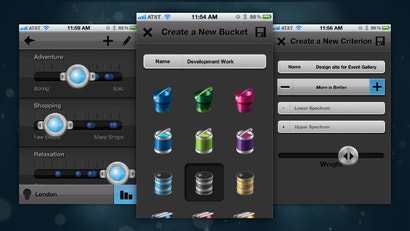 iOS: Idea Bucket is a pro and con list on steroids. You add ideas, chose important criteria, and rate each idea based on those criteria. Idea Bucket will then take all the data you gave it and tell you which choice is the best for you.
Here's an example: you want to take a holiday but you're not sure where you want to go. You can add all the potential locations as ideas, then set a bunch of criteria such as shopping, night life, tourist attractions, and anything else you want to do. Once you've given Idea Bucket these options, you can judge each place based on the criteria you specified. When you're done, the app will tell you where you should go on holiday.
The app is pretty easy to use once you understand what you're doing, but getting started is confusing. I usually don't like my hand held when I first launch an app, but some built-in help would be nice.
Idea Bucket is also a little expensive ($4.49), but you do get the iPhone and iPad version in one. If you're terrible at making decisions, or just need a little help with a few, check it out.
Idea Bucket ($4.49) [iTunes App Store via Swissmiss]