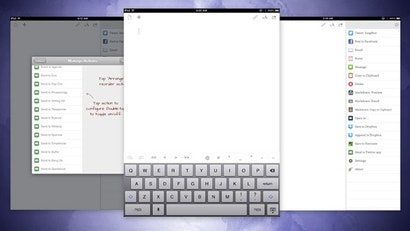 iPad/iPhone: Drafts is a fantastic app for jotting down ideas and quickly sending it to just about any service you like. Today, the iPhone version received an update along with the launch of an iPad app.We like the iPhone version, and the iPad app is just as solid. The main appeal is that you're immediately given a blank page to start typing on when you start the app — no messing around with menus or lists. When you're done with your note, you can export it to other services, such as Dropbox, Evernote, Appigo Todo.
The iPad version has all the same features of the iPhone, and adds a few interesting new tricks. First off is support for more apps to export your notes to, including Writing Kit and Threadnote. It also has support for the Simperium syncing service as an alternative to iCloud. The update also adds an interesting new "Append to Dropbox" function. This makes it so you can create a note and then send it straight to an ever growing "Journal.txt" file on Dropbox.
Drafts is available for $1.99 on iPhone and $2.99 on iPad in the iTunes App Store.
Drafts for iPhone [iTunes App Store] Drafts for iPad [iTunes App Store]