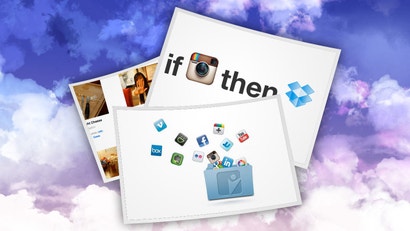 Dear Lifehacker, I have photos on Facebook, Instagram, Flickr and a bunch of other services. On top of that, friends post photos of me in just as many places. I want to consolidate all these images into a single location. How can I do that?
Sincerely, Photo Spread
Photo by beboy (Shutterstock).
Dear PS,
There are many ways to download photos from various sites and save them to a collection on your computer, but that involves manual effort. Instead, you can use two social services to do the work for you. With a little setup, you'll have all your photos — and photos from your friends and family — all in one place.
Firs, you have to sign up for a couple of free accounts: Social Folders and IFTTT (If This Then That). Social Folders is like Dropbox for your social media (more info here) and IFTTT is a clever tool that can automate various actions with web apps and services (more info here). Depending on what you want to accomplish, and how many different photos sites you use and your friends use, you may only need one of these services. We'll go over both and you can decide what suits you best.
Link Social Folders to Your Photo Accounts
Social Folders has two components: a web interface for setting up the links between your social media accounts and its service, and a desktop app to sync files between Social Folders and your computer. If you've already signed up for an account, you've probably downloaded the desktop software you'll need to use Social Folders. If not, do that now, log into your Social Folders account in your web browser, and follow these steps to set up your first service:
Click the green "Add a new service" button on the left.
You'll see a long list of social media services, including Facebook, Flickr, Instagram and more. For this example we'll use Flickr. To get started with Flickr, click the "Connect to Flickr" button on the right.
A window will pop up asking you to log in and authorise Social Folders. Go ahead and authorise it.
Social Folders will make the connection between Flickr and itself. Once finished, you'll be asked if you want to download all of your photos or "Access my settings". If you want to download every photo in your collection, go ahead and choose that option. If not, click "Access my settings" and read on.
The pop-up window will close and you'll find yourself on a page displaying all your Flickr sets. "Future Albums" will be selected and highlighted already, letting you know that anything you add to Flickr will be synced to your computer(s) using Social Folders — even if you add photos via Flickr's web interface on a friend's computer while travelling across the country. You can also choose any other sets you want to keep in sync. Select any albums you want and you're done!
You can repeat this process for any other services you use. With some services, such as Facebook, you can even sync your friends' photos or any photos you were tagged in automatically. This will help keep your collection complete without lifting a finger. Additionally, you can now upload all your photos to any linked photo service by just dropping them in the appropriate Social Folders folder on your computer. You'll be able to manage 2000 files for free. If you want to sync more than 2000 files, Social Folders charges $US2 per month or $US10 per year to remove all limitations.
Automate Photo Downloads with IFTTT
IFTTT can automatically retrieve new photos from various services and sync them to your Dropbox account. While Social Folders is ideal for your photo collections, when you want to pull from the collections of others, IFTTT handles that task beautifully. To start syncing, you'll need to create a new recipe. Here's how to do it, using Instagram as an example:
Click the "Create" link at the top.
Click the "this" link, highlighted in blue.
Choose Instagram from the grid of services. If you haven't used IFTTT with Instagram before, you'll need to activate IFTTT's Instagram Channel (by clicking the "Activate" button). If prompted, log into Instagram and then authorise the link between it and IFTTT.
You'll be presented with a grid of Instagram-related triggers. While you may want to set up more than one trigger, the most likely choice will be "New photo by specific user", as it will allow you to automatically download any photos from a user you like/follow. Choose it.
Enter the name of the Instagram user whose photos you want to download.
Click the "that" link, highlighted in blue.
Choose Dropbox from the grid of services. Activate and authorise the Dropbox channel as you did with Instagram (if necessary).
From the Dropbox actions grid, choose "Add a file from URL".
IFTTT will fill in all the relevant details for you so that every new photo will be added to your Dropbox account with a relevant file name. You can make changes if you want or just keep the settings exactly as they are. When you're satisfied, click the "Create Action" button.
IFTTT will show you your completed recipe. If it all looks good to you, click the "Create Recipe" button.
Now, new Instagram photos from the user you specified will be added to your Dropbox automatically. You can repeat this process for other Instagram users or use the same steps to add other services as well.
We hope you enjoy your automatically consolidated photo collection!
Cheers Lifehacker
Got your own question you want to put to Lifehacker? Send it using our contact tab on the right.