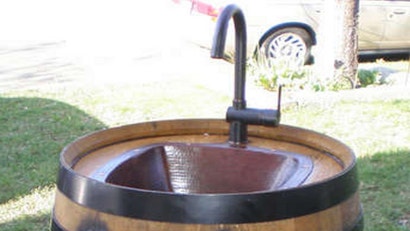 If you work out in the yard on a regular basis, you can do better than bending over uncomfortably to rinse your hands under the outdoor tap. For a classier way to clean up, consider getting a used wine barrel and fitting it with a bar sink.
Instructables user xraywinedrinker created this solution using a copper-coloured bar sink. Since he would be cutting an access door into the body of the barrel he wanted to make sure that none of the wooden staves would fall out during construction.
To accomplish this he drilled two holes through the metal ring on each wooden stave that would be cut and fitted #8 19mm (0.75-inch) stainless steel drums to those holes — one above and one below each stave that would be removed. He also did this at the bottom rear of the barrel as an access port where the hoses entered and exited the barrel.
Then he cut out and assembled the door, and cut out the area for the bar sink to fit, after which a bead of silicone was applied to make the barrel weatherproof. You can pipe the drain to your sewer system if you really want to, but if you use soap without a lot of additives you can have the greywater drain to nearby plants.
For full step-by-step photos, instructions and a materials list, see the Instructables link below.
Turn a wine barrel into an outdoor sink [Instructables]