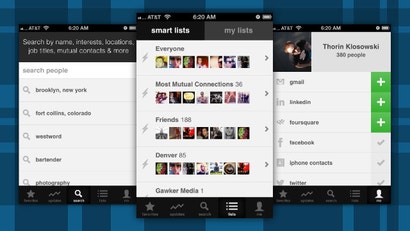 iOS: Keeping track of contact information for everyone you know can be tough. Brewster is an iPhone address book that works to bring all your contacts across various social services together in one place for a smarter view of who you keep in contact with.
When you first launch Brewster you'll be asked to add information from Facebook, Twitter, LinkedIn, Gmail, iPhone contacts, or Foursquare. Once you do, Brewster will not only create an always-up-to-date address book, it also shows you connections betweens contacts, who you're losing touch with, and automatically creates lists based on data. You can also make your own lists to better track and organise your contacts.
It works similar to our current favourite iPhone address book Smartr Contacts, but has a lot more automation running under the hood to organise everything. Brewster is a free download from the iTunes App Store.
Brewster [iTunes App Store via New York Times]