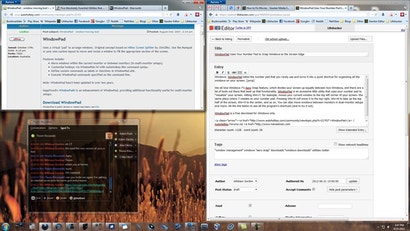 Windows: WindowPad takes the number pad that you rarely use and turns it into a quick shortcut for organising all the windows on your screen.
We all love Windows 7's Aero Snap feature, which divides your screen up equally between two Windows, and there are a lot of tools out there that beef up that functionality. WindowPad is an awesome little utility that uses your number pad to "visualise" your screen. Hitting Win+7, for example, moves your current window to the top left corner of your screen — the same place where 7 resides on your number pad. Pressing Win+9 will move it to the top right, Win+8 to take up the top half of the screen, Win+5 to the centre, and so on (see the graphic to the right by Jim Priest for a good visualisation). You can also move windows between monitors in dual-monitor setups and more. Hit the link below to see all the program's shortcuts (and to try it out).
WindowPad is a free download for Windows only.
WindowPad [AutoHotkey Forums via Scott Hanselman]