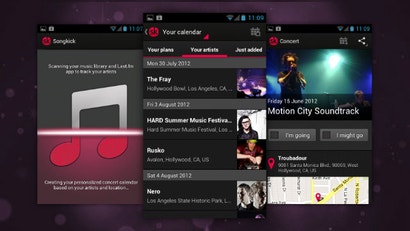 iOS/Android: It can be hard to keep track of all your favourite music artists and their tour dates, especially when you're discovering new music all the time. Songkick scans your music library and lists upcoming tour dates for your favourite bands in your area.
Songkick has actually been around for a while on iOS, but its newly released Android app got our attention. Just start it up and it'll scan your local music library, looking for artists on tour. If you're on Android, it'll also scan your Last.fm library. Then, it'll determine your location and present you with a list of all the upcoming tour dates for artists you listen to. You can then see a map of the location of each concert, see who else is playing at the show, and add it directly to your device's calendar with one tap.
We wish it had a few more options, like the ability to remove certain artists from its search, but overall it's a pretty cool way to stay on top of the concerts happening in your area without having to manually search Ticketmaster or seek out each band individually.
Songkick is a free download for iOS and Android.
Songkick for Android [Google Play Store via AddictiveTips] Songkick for iOS [iTunes App Store]