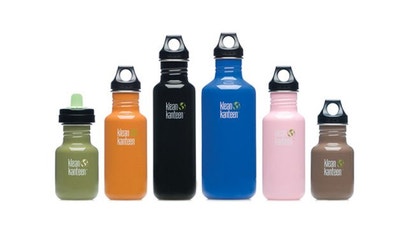 It's great to always have a bottle of water handy, but finding a way to keep it cool and not weigh you down can be tricky. Our friends at the Wirecutter took an exhaustive look at reusable water bottles to find the best one around, and they've settled on the Klean Kanteen.
The Klean Kanteen has been around for a while, and it's very popular — in fact, many of you probably have one already. But the Wirecutter has decided that of all the reusable water bottles out there, this one's the best. So if you're in the market for a bottle to tote your refreshments around, the Klean Kanteen is a good place to start. It's made of metal, so it's good at keeping your water cold, comes in lots of shapes and sizes with different caps, and it isn't as likely to pick up leftover tastes and other funk from previous liquids left in there. Plus you'll save money on bottled water, which is as big a scam as any if I've ever heard one.
Check out the full post below to read more about the Klean Kanteen and all its competitors, including the previously mentioned, collapsible Platypus water bottles that we're pretty big fans of. No matter what your needs are, they've probably got a water bottle suggestion that's right for you.
The Best Water Bottle [The Wirecutter]