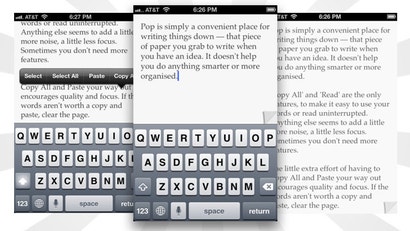 iOS: You won't find a shortage of note-taking apps in the iTunes App Store, but Pop is an app that does things a little differently. Instead of emulating a big notebook, its primary function is the same as a piece of paper you find in your pocket to quickly jot down a note. It has only one page, and it doesn't include any extraneous features.
The purpose of Pop is to provide you with a single sheet of paper to quickly jot down some words. It functions a bit like that receipt in your pocket you use to scribble down an idea quickly so you don't forget it. The more interesting part is the fact you can't archive notes. This means once you write something down you have to make a conscious effort to copy-and-paste it over to another app. The goal is to help you vet ideas and decide if they're worth it or not.
It's a different take on the notepad and if you're looking for something simple that doesn't do anything but take on your words, it's worth a look. It's a 99¢ download in the iTunes App Store.
Pop [iTunes App Store via Minimal Mac]