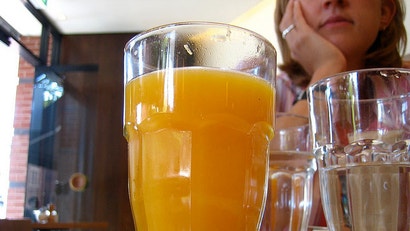 Juice sometimes gets a bad rap for being loaded with sugar and masquerading as a healthy choice when it's secretly bad for you. While sugar isn't really ever great for you, ABC News points out that the right kind of juice can still be a healthy option:
Photo by Jeremy Keith.
There's a big difference between 100 per cent juice and a bottle of sugar water with a few cranberries squeezed into it. Yes, juice has a lot of the sweet stuff, but a six-ounce glass of 100 per cent juice also counts as a full serving of fruit and delivers many of the same vitamins and antioxidants, making it worth the occasional sugar rush, says Jessica Ganzer, R.D., owner of Ganzer Wellness Consulting in Arlington, Virginia. And it can be the easiest way to get a superfood: Drinking 100 per cent pomegranate juice is easy; picking apart a real pomegranate, not so much. As long as you drink 100 per cent juice (from concentrate is fine) and limit yourself to one six-to-eight ounce glass a day, you're not breaking any rules of good nutrition.
So there you have it. If your juice is actually juice and you drink it in moderation, you're not destined for trouble.
7 Diet Myths Exposed [ABC News]