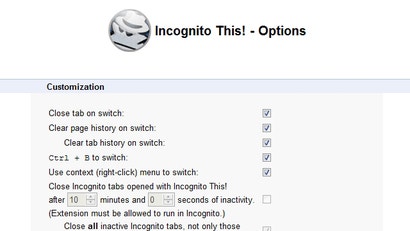 Whatever you use private browsing for, sometimes you want to start your secret browsing from the page you're already on. "Incognito This" moves your current page to a new incognito window, so you can continue browsing privately without starting from scratch.
Incognito This is simple to use you're browsing and want to enter an incognito window, just click on the extension's icon and it'll open the current page in a private browsing session. You can also choose to clear all history instances of that page, as well as open new links in an incognito window from the right-click menu, or set a keyboard shortcut for super-fast switching. It even has an option to automatically send pages with certain keywords to an incognito window. Be sure to check out these other extensions that make private browsing more useful, while you're at it.
Firefox users should check out Open in Private Browsing, which does something very similar.
Incognito This! [Chrome Web Store via AddictiveTips]