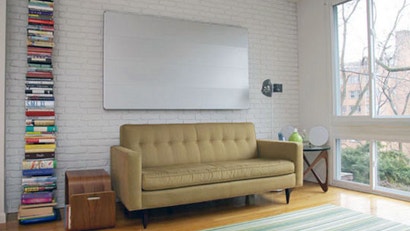 If you have a tiny apartment and rarely need an entire dining table, you may want to consider buying a folding table and hanging it on the wall with bicycle storage hooks when not in use.
Home Improvement weblog Apartment Therapy showcases a couple who live in a studio apartment in Washington DC and hang a stylish $US600 aluminium folding table on their wall. If you like the idea but prefer function to form you can get away with hanging a much cheaper steel or resin table on your $US6.50 bicycle hooks.
Just make sure the hooks are anchored in the wall securely. Folding chairs can be stored in closets or even hung on the wall alongside the table.
Space-Saving Magic: "Hide" Your Dining Table On The Wall! [Apartment Therapy]