Google Drive, the long-rumoured web-based file storage tool, launches for real today. It's a little Dropbox, a dash of Google Docs, all with the amazing organisation and search power you've come to expect from the people that created Gmail. Here's what it has in store.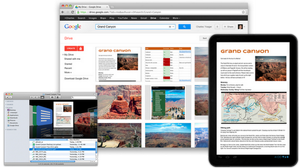 Dropbox-Like Desktop Syncing
Like Dropbox, Google Drive has an app for Windows and Mac OS X that will sync all your documents, videos and other files with the cloud. There's also an Android app and a (forthcoming) iOS app for mobile access. Each user gets 5GB for free and can upgrade to 25GB for $US2.49 a month, 100GB for $US4.99 a month, or even 1TB for $US49.99 a month. If you upgrade, it'll also raise your Gmail storage to that level. For those of you keeping score, that's a lot cheaper than Dropbox.
A Powerful, Search-Oriented Web App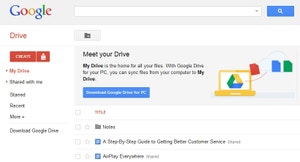 Drive's web app, though, looks pretty different from Dropbox — in a good way. When you log into the web interface, you'll see that it looks a lot like Google Docs. You can search through all of your Google Drive files quickly and easily, filtering by document type, owner, activity and more. What's really cool is that Google Drive will automatically use optical character recognition (OCR) to read your scanned PDFs and other files, so that you can search for text within those files, even if they're just scanned images. It'll also use Google Images to scan your images, so that searching for, say, "Eiffel Tower", will bring up your photo of the Eiffel Tower you took on your last holiday.
The web app also has a built-in viewer for tons of file types, including videos, Adobe Photoshop and Illustrator files, anything that can be opened and edited in Google Docs and more. Google Docs has been directly integrated, as well, so all of your collaborative projects will show up in your Drive just as they so in Docs. It also integrates with Google's other products, like Google+, Gmail and more. And, it has an API, so we should start seeing integration with third-party apps very soon. Check out the video above to see what it's all about, or hit the link below to read Google's official announcement.
Introducing Google Drive... Yes, Really [Official Google Blog]