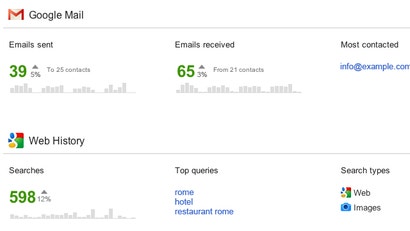 Google's newly-released Account Activity Dashboard creates a monthly report that lays out how you're using Google, covering everything from your Gmail activity to your account sign-in locations.
Obviously the most interesting stat for most of us will be the Gmail analysis, though Googler Andreas Tuerk offers a broader view:
[M]y most recent Account Activity report told me that I sent 5 per cent more email than the previous month and received 3 per cent more. An Italian hotel was my top Gmail contact for the month. I conducted 12 per cent more Google searches than in the previous month, and my top queries reflected the vacation I was planning: [rome] and [hotel].
Lastly, it's a potential gem for running a monthly security audit.
For example, if you notice sign-ins from countries where you haven't been or devices you've never owned, you can change your password immediately and sign up for the extra level of security provided by 2-step verification.
You can sign up for the new Account Activity Dashboard here. It probably won't blow your mind right away, but it could be a handy — or at least interesting — tool to keep in mind.
Giving you more insight into your Google account activity [Official Google Blog]