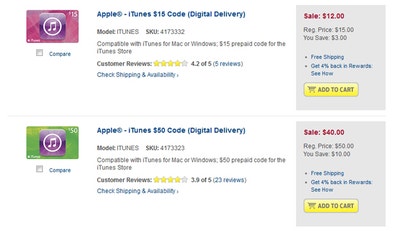 Bugger. Last year, we noted that Best Buy was a useful source of top-ups if you had set up a US iTunes account, because it would accept payments via an Australian credit card. Unfortunately, it seems that loophole has now been closed.
Reader Gareth recently tried purchasing a card through Best Buy. While his payment was initially accepted, he subsequently got this email from Best Buy:
You may not use an international credit card to purchase an iTunes Code. If you attempt to purchase an iTunes Code from Best Buy in the US using an international credit card, your order will be automatically canceled. We apologize for this inconvenience.
Gareth adds: "It's worth noting that the sale went through and the amount was charged to my credit card and then the order was cancelled so if you do try you'll be waiting a week or so for your money back it seems."
The other source we highlighted for purchasing iTunes cards from the US was Walmart. If anyone has had success (or otherwise) with that option recently, or has another source that reliably sells cards and doesn't add a surcharge, let us know in the comments. Thanks for the tip Gareth!