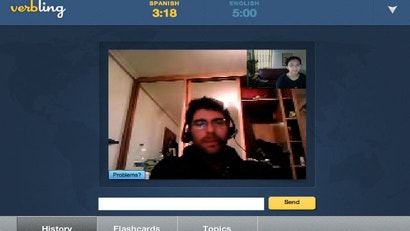 The best way to learn a new language fast is to start applying it right away, but a big barrier for new learners is not having anyone to practise with. Verbling solves that problem by connecting you in timed video chats with other language learners.
The service is as easy to use as selecting what language(s) you want to learn, connecting your microphone and allowing the webapp to access your webcam. Right now Spanish and English is available for video chat, but French, Arabic, Chinese and German are listed among the 10 total languages rolling out.
Flashcards and topics for discussion (such as "What is the nightlife like in your country?") are provided beneath the video chat. Each session lasts five minutes.
I was matched up quickly with Paco in Spain, but then the video cut off, and then Jose connected. The quality of the videos can really vary depending on the user and, obviously, there may be difficulties understanding the other person depending on how far along you both are in your language learning. It's pretty neat to instantly connect with a stranger across the world and try to boost each other's linguistic skills.