Eye hooks can be frustrating to screw in with your bare hands, especially if you are installing them into an overhead stud. This simple trick allows your drill to do the dirty work.
---
Bandsaw blades are unwieldy, and can slice up your hands if you're not careful. Here's a quick tip for coiling a blade that only takes seconds.
---
---
A hole saw attachment cuts perfectly round holes into wood using your drill. It only takes a few seconds to make a hole, but what takes the most time is freeing that wood plug from the saw. Here's an easy and methodical way to clear your hole saw so it's ready for the next cut.
---
There are a few different techniques for removing stripped screws, such as the rubber-band trick and using a screw extractor. This approach involves making a custom holesaw that quickly removes the screw using your drill.
---
Japanese woodworking focuses on advanced joinery (tight clearances) and finely planed wood surfaces. This Japanese-style sawhorse is built using only compression joints and can be set up and broken down with nothing more than a mallet.
---
Tool storage is an ongoing battle (if you're like me and learned to remove a tool every time you acquire a tool). Here's another clever organisation method that will instantly sort out a messy tool chest.
---
Removing carpet is easy to do, but this simple tip will make the job go a lot smoother. As a bonus, you'll save on razor blades.
---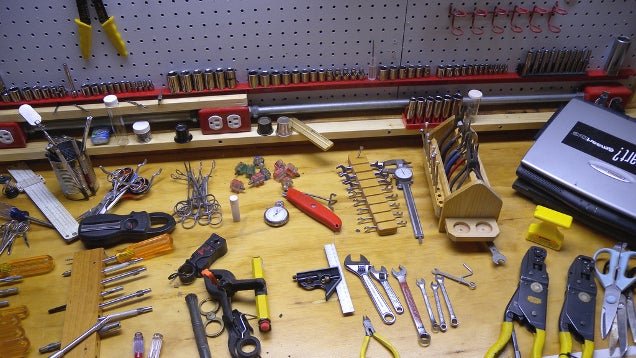 Pegboard is a common sight in workshops and garages everywhere, but not everyone has the wall space or desire to install one. Here are a few pegboard alternatives that provide an accessible and safe place to store (and protect) your tools.
---